The pretty, Mediterranean town of Nice, with its pebbled shore and brilliant blue waters, may not be known for a famous landmark or a world-class attraction akin to Paris' Eiffel Tower, or even nearby Monaco's grand casino, but it does make a great base if you intend to explore the region. It's close enough for day trips to Cannes, Monaco, Saint-Tropez, Eze, Menton, and more. But it also has it's own little personality, which makes it the perfect place to stop along the coast for a couple of days, if you can afford the time. (If you're the sort of person to travel for long stints of time, like I am, you'll know how important a well-planned rest stop is!) I'll stick to Nice in this article, but please check back soon for more on the rest of the Cote d'Azur!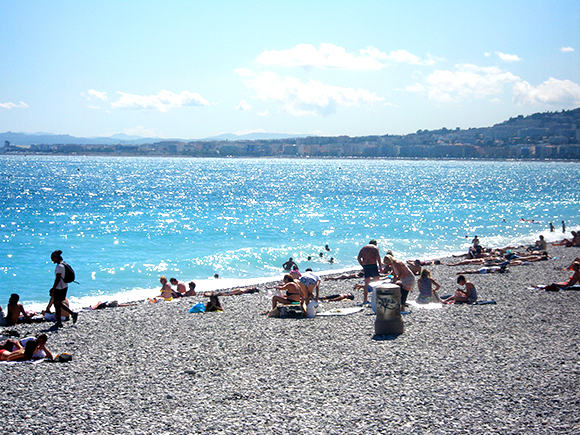 Short on time? Click here to skip down to my Top 3 Highlights of Nice →
We arrived in the afternoon, so it was dusk that greeted us as we walked the Promenade des Anglais and dared to make our way down to the beach, balancing with all our might on the rocky shore. As night fell, the beachgoers left in search of food, and soon there was not another person in earshot, so that all we could hear was the "shhhh" of the tumbling waves on our right, and the "shhhh" of the tumbling waves on our left, foaming and bubbling white against the deepening blue beyond it. The lights of Nice shone like another world behind us, bright and gaudy and artificial; an alien scene as we stood under the grace of the dark, quiet, waterfront sky.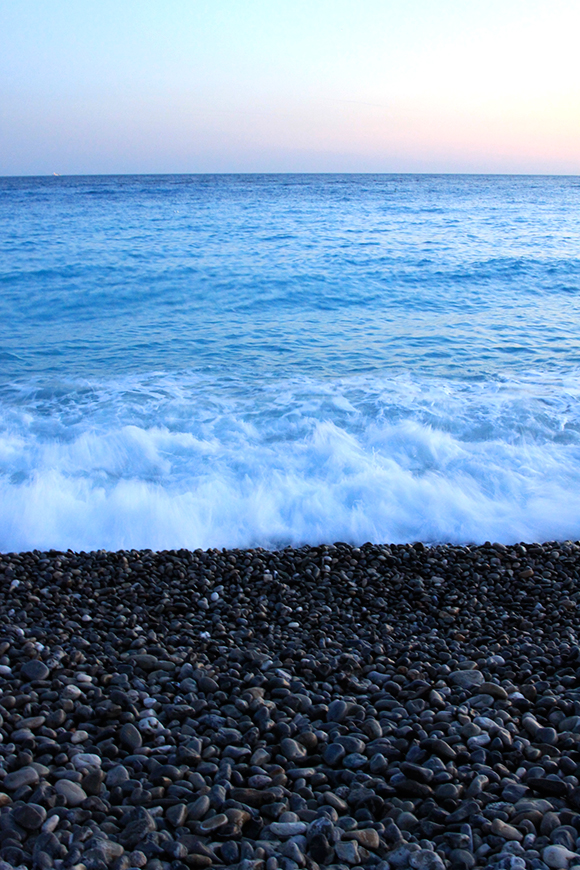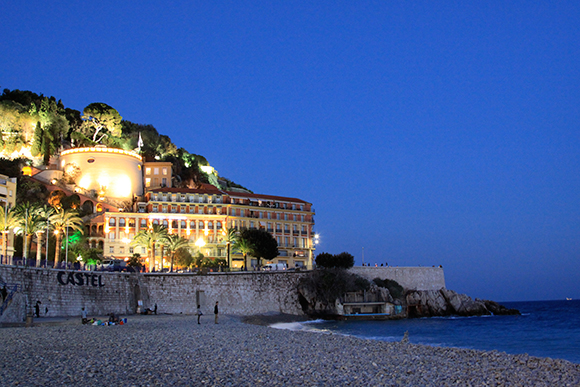 I have memories from 7 years ago, when I was here last. I was traveling with different company then, and it was a Contiki tour bus that drove me around the coast, not my husband and our Europcar-hired Citroen. We were a mixed group, comprised of British, Americans, Canadians, Brazilians, South Africans, but mostly Australians. The Northern Hemisphere folk were daring each other to go for a midnight skinny dip; the rest of us took our cameras elsewhere, and wandered the main drag of restaurants and bars, enjoying the dimming of closing-time-lights as satisfied tourists with swollen bellies waddled back to their hotels after a feast of prawns and pasta. We watched as the once electric strip became a sleepy seaside village with every courtyard packed away and every door shuttered and locked.
It was this very same drag that my husband and I strolled after listening to the silence of the beach. Each restaurant offered the same tourist prices, the same tourist menu, and the same tourist service. Boasting salesmen standing at the front of each diner beckoned you in, but when seated, you didn't see a waitress for 15 minutes. At least, that's how long we waited before simply getting up and leaving. We retired to a bar for a couple of cocktails and a street show before turning in for the night.
We returned to the beach the next morning… and this time it was far from deserted. There is a reason they call it the Cote d'Azur (literally, the Azure Coast) – both times I have been, the blue has stretched far beyond the reach of my sight, ending only when night fell and the cloudless sky turned to black. On neither occasion did I have time to swim in that magnificent Baie des Anges (Bay of Angels) – we always seemed to be rushing off up the coast, or were late to a very important date with the Perfumeries of Grasse. It is my one regret.
To make the most of your time in Nice, I suggest you do at the least the following to avoid the regrets I have worn:
1. Swim in the Mediterranean
This is no ordinary beach. The rocks, like Amalfi, will scald your feet like hot coals, and that's assuming you manage to stay upright on the wobbling rubble. Not that being in the water is a cup of tea either. The drop is sudden and the current is strong, so I like to ease my regret in the thought of still being alive and not adrift at sea somewhere!
Ok, seriously, don't let me scare you. I was the 5-year-old who kept asking her mum why her friends seemed to disappear from swimming class every few months. I can't recall the answer she gave me back then, but when I reached my twenties I asked her again. Her response was "your friends would graduate into more senior classes but you hated swimming so much you stayed in the same class until we gave up on you"!

2. Try at least one of the 94 flavours of gelato and ice-cream on offer
From Cactus to Cacao, Fennochio Maitre Glacier has almost 100 flavours on display in a central Nice courtyard for hungry tourists to salivate over. Gianduja, Lychee, Amaretto, Almond, Lavender, Tiramisu, Pear, Salted Caramel Butter, Pina Colada… any flavour under the sun. It reminded me of a scene from Enid Blyton's children's book "The Magic Faraway Tree", whose branches would reach high through the forest canopy into a different, topsy-turvy world every week. One week, the children met an ice-cream vendor who would reach into his freezer-box and present them with any flavour they demanded — including Sardine ice-cream! I've always had this picture in my head of a ice-cream cone with a single scoop and lots of little fish heads and tails sticking out the top…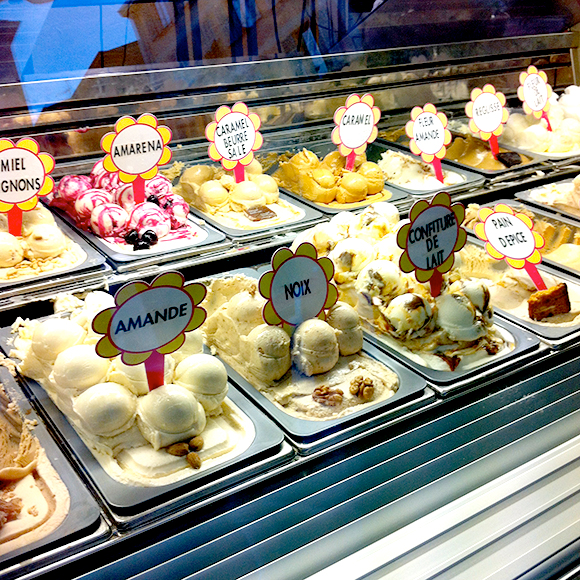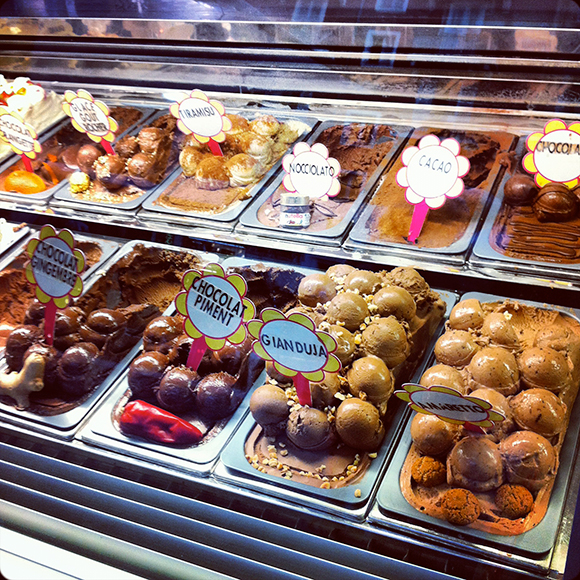 3. Visit the waterfall
Yes, Nice has a waterfall! If you google it, you won't find many references to it, but it is well worth taking the countless steps up the northernmost cliff face of the beach to see it. I missed out on it the first time. This time, my husband made sure I didn't.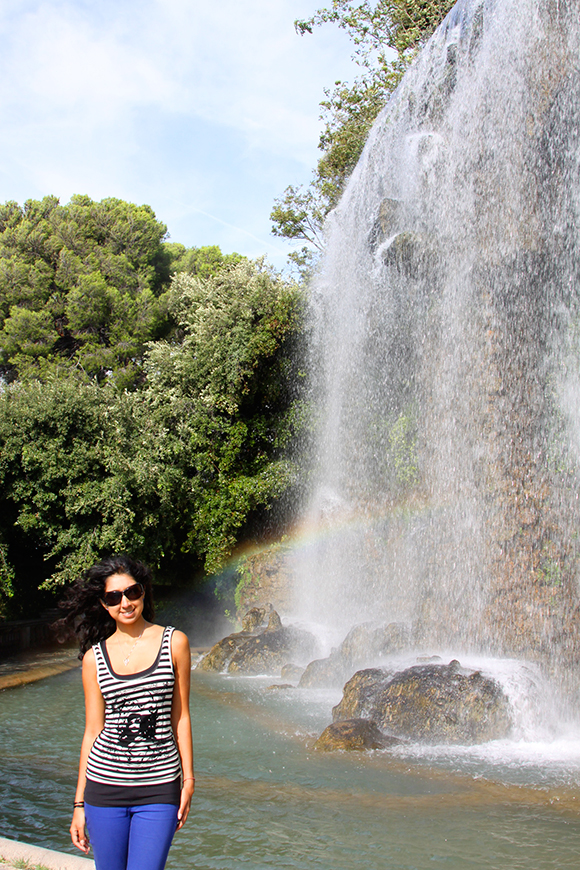 If you're not able to walk the steps you can also drive, as we opted to (we were on our way out of the city into Provence). The waterfall and lookout point at the top of the cliff is nestled in what an Australian might assume to be a national park or rainforest. It is dark, cool and lush under the trees, a retreat from the unrelenting sun of Southern France, and it has vantages over the entire town of Nice. If you're leaving Nice by car, I highly recommend this as a nice way to say goodbye to the little town – one last aerial view of one of the most beautiful bays on the French Riviera.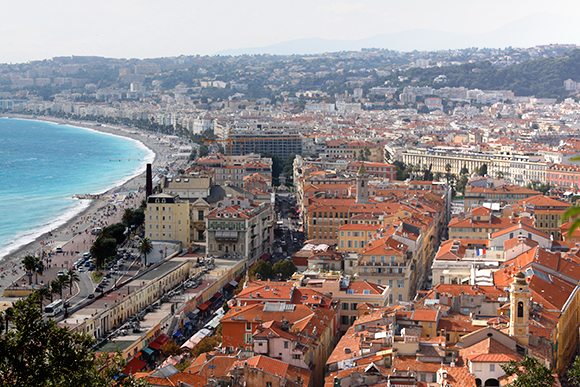 Well, that's my spiel, what about you? Do you think Nice is worth visiting? What are your favourite places in Nice?
---

Enjoyed this post?
Read the next post
from this series: "
A Honeymooner's Guide to six weeks in Europe
" now!