Last weekend, in the quiet of an autumn afternoon, my husband and I went for a drive into the mountains, searching for our own private Provencal home. The rain was light and drizzled, as if not rain at all but condensation hung in the air, tiny transparent pearls of water. Just enough to moisten your skin were you to venture outside.
We had been entertaining the idea of moving to the country for some time when we stumbled across an advertisement for a beautiful, hand-built stone house. The pictures made it look like it was taken straight out of an Enid Blyton fairytale; it was dusk, and the lit windows made it feel warm and homely, a safe haven from the dark forest outside. In person, it lived up to our expectations. The property was in the middle of Watagan Forest, the only entry via a narrow mountain road, curving in and out of the treescape. It was built on acres of land – so well outside of our price range – but it made for a pretty Sunday drive.
It was also the moment we realised how much we are "mountain people" — and how much we craved to be back in Provence.
Short on time? Skip down to Riez and Hotel des Colonnes | Moustiers-Saint-Marie | Lake Sainte-Croix | Grasse and the Perfume Museum | Map of the region
It was September 20th. Day 34 of our honeymoon and just past the halfway mark when we departed Nice and were en-route to the heart of Provence. Our travels took us via the Gorges du Verdon – a glacier-fed river that flows through the canyon 700m below the road, easily one of the most scenic drives in the world. In fact, back in Top Gear's Season 7, Jeremy Clarkson raced a couple of speed climbers going vertically up the cliff in his Audi RS4, describing it as he pointed out the route on a map:
We're driving along here, which is the second most demanding road in Europe, and then up here, which is THE most demanding road in Europe.
Unfortunately for us, the light was slowly fading by the time we reached the Gorges, and made for a slow 3-hour crawl through the mountain pass with just our headlights and a French-speaking GPS to guide us. Of course we made it out alive, which is more than I can say for the bunny rabbit whose fluffy backside met with our fender with a bump as we squinted for visibility. There was no trace of him when we stopped to search, so we like to think we just gave him a bit of a boost up the bum, and he hopped on his merry way home.
It was the next morning that we actually got to see the majesty of the Gorges, but first, let me tell you of our destination that day – Riez.
Riez is a small town with a population of roughly 2,000 people. Known through history for its lavender, honey, truffles, and healing water, Riez isn't home to any monumental attractions of its own, but it does serves as a good base for travels around Provence – the exact reason we chose to stay. It lay more-or-less on our route from Nice to Montepellier, with access to Moustiers and Grasse. And given it was deep in the French countryside, I prepared my husband not expect the familiar sound of English. I made him practice his French in the car – "ou est le toilette?" – so you can imagine our surprise when we met the lovely Geraldine, our host at Hotel des Colonnes, and a former resident and Surry Hills shop owner in Sydney.
Geraldine had moved from St Tropez to Sydney with her Australian husband, and had spent ten years there before they split. She returned to France with their son, and decided to start a bed-and-breakfast in Riez. She is one of the personalities I'm happy to say we will always remember. Her warmth and welcome made our night in Riez one of the most memorable of our honeymoon – in fact, it was later in the evening when we dined on pizza and wine, lying on the couch in our suite watching Woody Allen's "Whatever Works" when my husband whispered to me, "you know we'll remember this night for the rest of our lives". And of course, we have.
Meanwhile, if Geraldine was nothing that I expected, Hotel des Colonnes was everything and more. Under the cover of dark, our Citroen slowly grazed its way through the unsurfaced streets of Riez, looking for the building we would call home that night. At last we found it, an underwhelming stone building with a great wooden door and shuttered windows. I banged the brass door knockers, the sound of racing paws pattering and skidding along the floor answering in return. Their deep "woof's" were wholesome and hearty – they sounded like home.
Geraldine opened the door and the two beautiful dogs greeted us with wagging tails. They almost knocked me over as they came outside to investigate these strange new people who smelt like faraway pebbled beaches. Geraldine ushered us in, lugging one of the suitcases up the stairs and promising us a "surprise" – being her only guests, and knowing that it was honeymoon, she upgraded us to the suite!
The bed was our first true double (as opposed to the two singles wedged together and covered with a double sheet – as if we wouldn't notice when I fell through the gap in the middle of the night), and the luxury of snuggling is well taken advantage of – the fluffy doona and comfy pillows make for one of the best sleeps we had during our six weeks.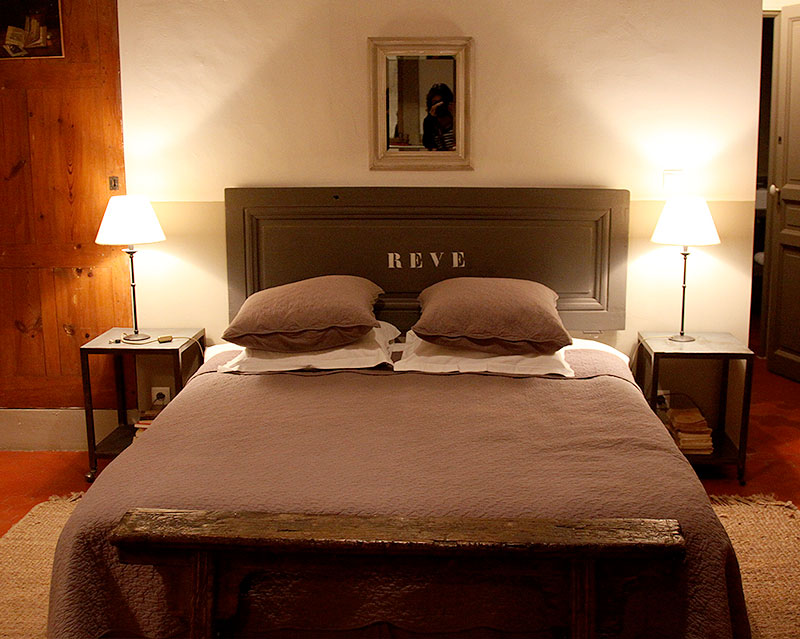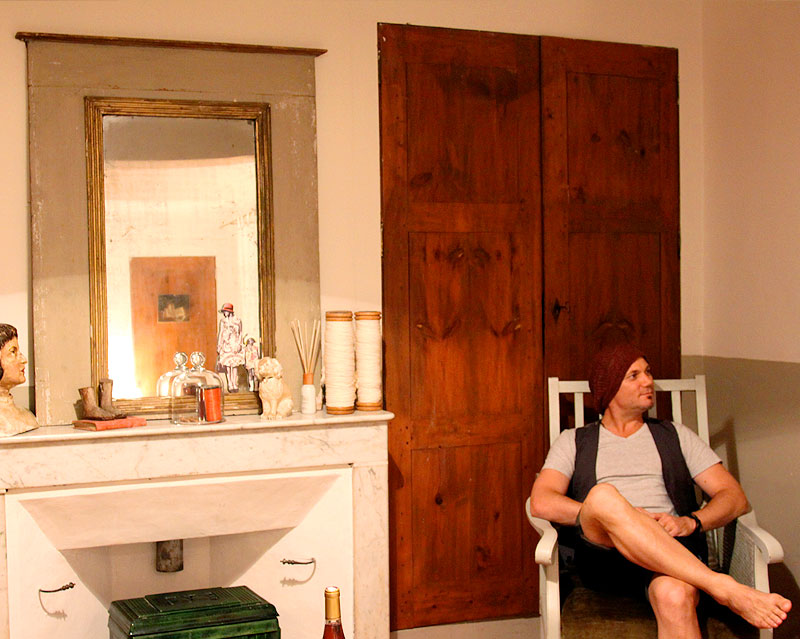 Even without the bed, I was in heaven. The hotel embodies the very soul of Provence. It is rustic and elegant. It reminds me of the Relais & Chateaux hotel we spent our wedding night at in the Hunter Valley (once Tower Estate Lodge, now sadly sold to Michael Hope of Hope Estate Wines for his private residences). There were stacks of old books on the night stands, shaggy rugs beneath our feet and a rain-shower in the bathroom, knick-knacks on the mantlepiece and flower pots in the window. Hotel des Colonnes would go on to be the inspiration for our own home back in Sydney, and indeed reminds me of the country retreat in Watagan Forest.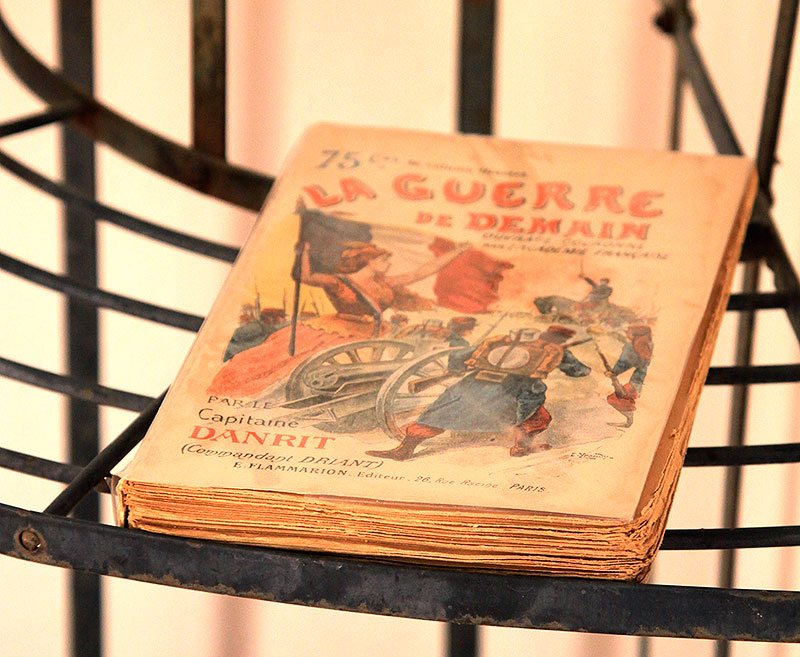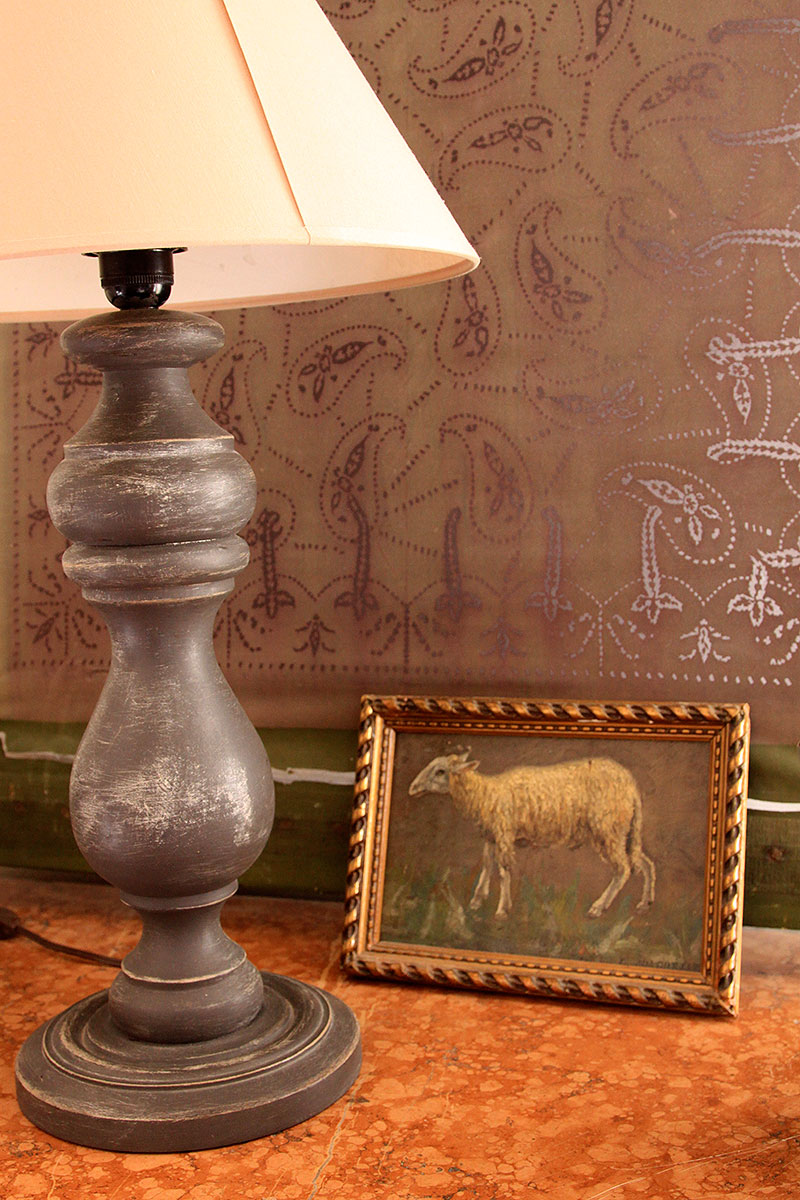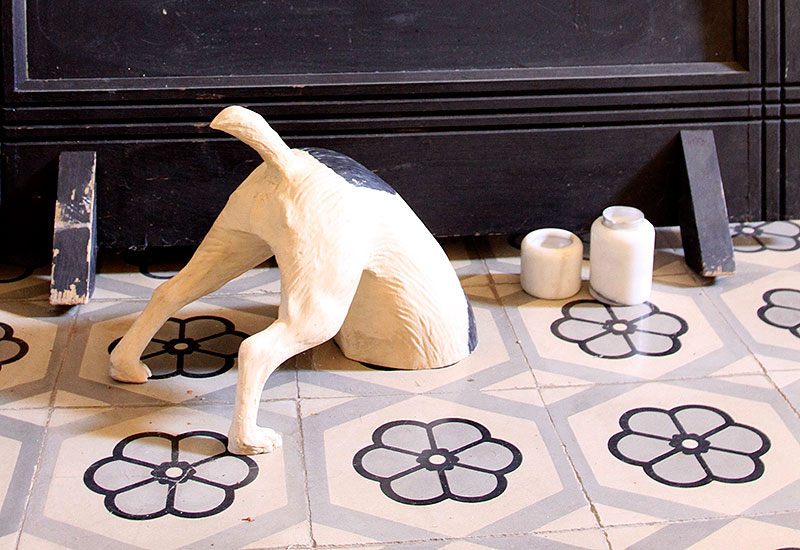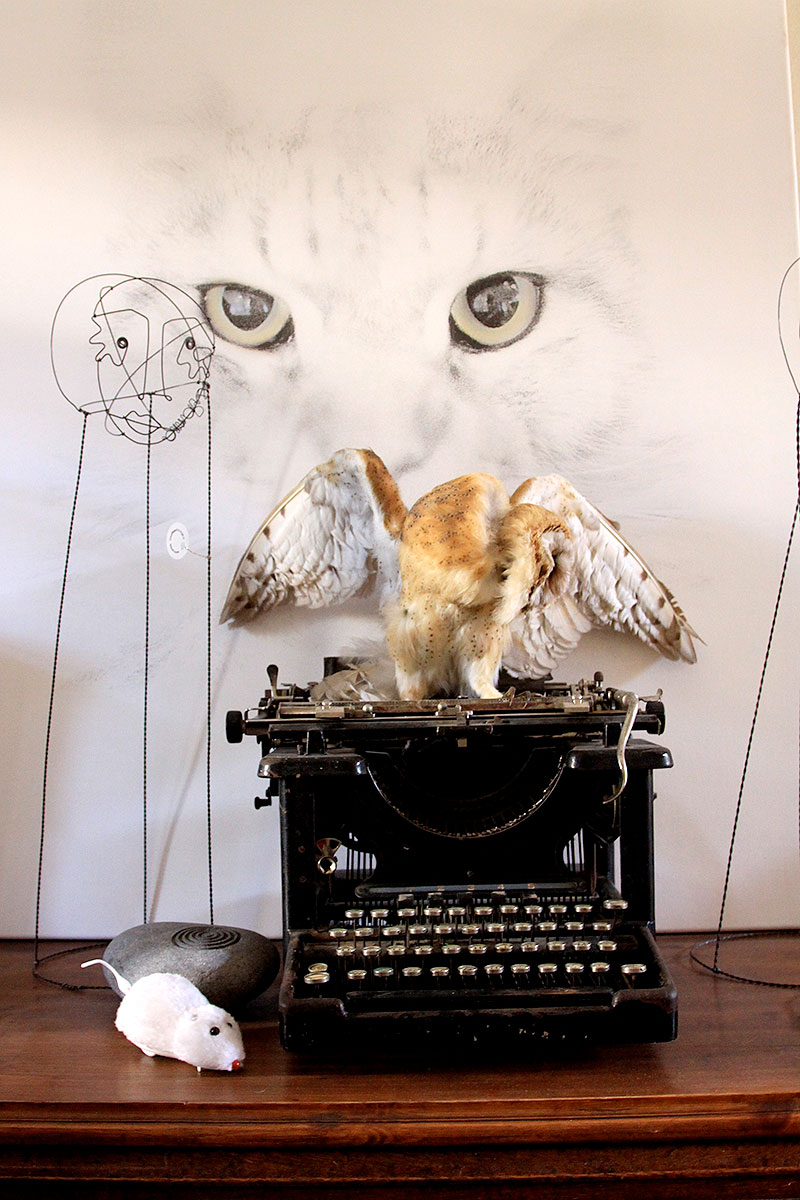 We settled in and thought of our grumbling bellies. Realising the only place that would be open so late in countryside France was the small pizza shop we passed on the way in, my husband ducked out whilst Geraldine poured me a glass of wine and introduced me to her friends in her private quarters. They are friendly, but soon they tired of speaking English and I escaped back up the stairs into our suite, flipping through DVDs until he returned, triumphantly brandishing a pizza in one hand, and a local bottle of red in the other.
"I bought it at the pizza shop!" He exclaims, obviously proud at his purchase. "Just wait 'til you try it!"
He recounts the scene:
The smell of fresh tomatoes and wood fire thickened the air in the small room. Justin looked around, eyeing the back shelves for tell-tale bottles.

"Anything else I can help you with?" The man asked as he wiped his flour-dusty hands on the apron falling from his rotund belly.

"Do you know where I can buy some wine?"

"You want wine? Here, I sell you the best wine in all of France!" His friends laughed raucously as he pulled a bottle from a box at the back of the room. "I make this." He beat his puffed-out chest, beaming.

"Um." Was there really any other option? The chances of there being anything else open this late at night in the middle of Provence was slim. "OK, how much?"

The man held up three fingers. Ouch! 30 Euro was a stretch – and did he even have that on him in cash? Still dubious, Justin rifled through his pockets. He reasoned with himself, maybe this guy was a real wine-maker, this is France after all. He reluctantly handed over the crumpled notes.

The man's friends laughed again. "3 Euro my friend!".
The next morning, Geraldine laid out fresh bread and pastries – still warm from the boulangerie – jams, figs, tea and coffee. We dined in the sun-dappled courtyard, draped with vines and flowers, and joined by Betty-Boo, Geraldine's french bulldog.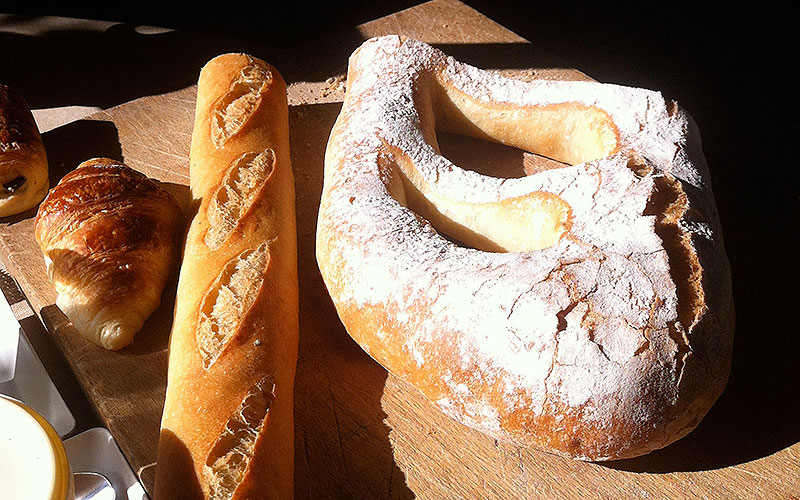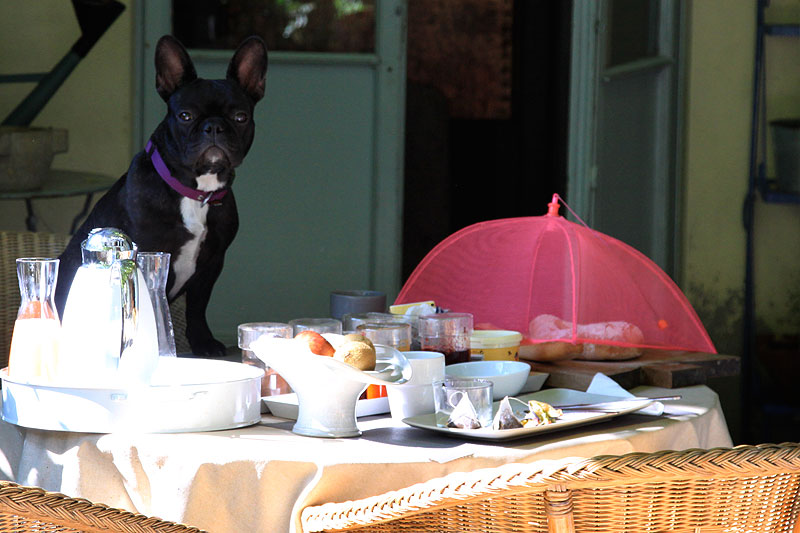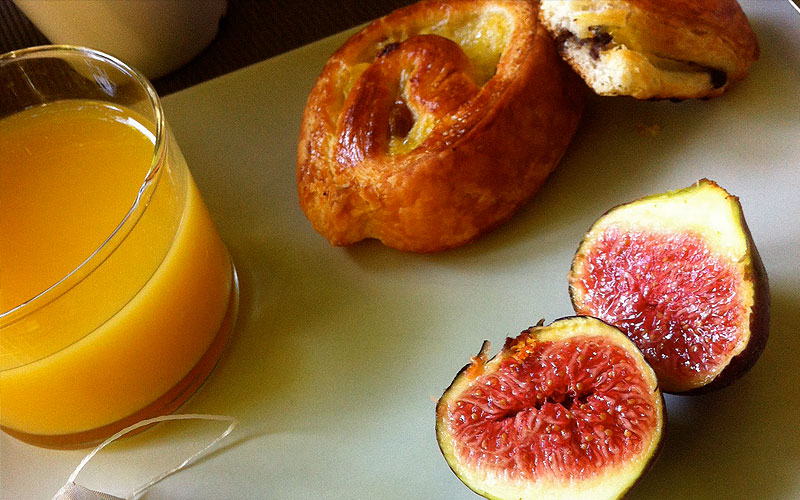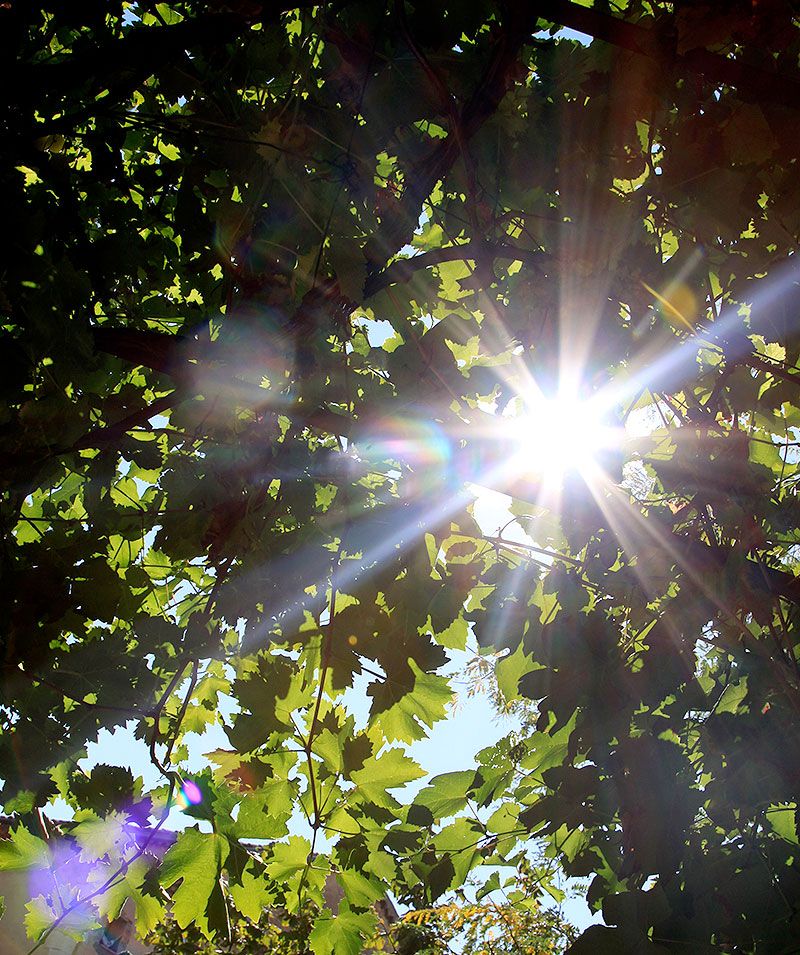 We were sad to leave, and asked her not to make up the bed "just in case" we decided to come back and stay another night. As fate would have it, we didn't return, but as consolation we ended up receiving a free night from our next hotel – again a "special surprise" for our honeymoon from another friendly local who has ties to Sydney.
Rooms at Hotel des Colonnes range from €80 to €120 in summer for two people (check the website for off-season and for additional guests/children). The smaller rooms are just as lush as the suite – I would even argue that Room 2 and Room 3 are even prettier than the Suite, but it depends on your taste. Geraldine also offers a communal dinner at an additional price – we didn't have the opportunity to take her up on this but the photos make it look divine. We will be back!
We packed up the Citroen and headed off to explore more of Provence, winding back through the Gorges du Verdon in reverse, with daylight on our side.
A quick stop at Moustiers-Saint-Marie – a pretty little town, ranked in the "most beautiful villages of France". It's the perfect stop for a long lunch, with it's main street lined with restaurants and cafes overlooking the ravine and waterfall.
My french was less than perfect, so instead of asking a local shop owner, "We are looking for a town named 'Moustiers', is this it?", all I could muster was "where is Moustiers?", to which she says in plain English, "here!". How embarrassing.
I have to admit, it was one of the prettiest places we visited on that trip, to the point where I thought to myself "could this is the best place in the world?", then corrected myself, shaking the thought away, shamed that I could even compare it to Amalfi.
Our next stop was the man-made lake Sainte-Croix, on recommendation from Geraldine. We followed her directions and arrived shortly – at 10km in length, this was no puddle! The Salles Valley was flooded in 1973 to create the lake, now a hub of watersports including sailing, windsurfing, and kayaking – as well as the rafting and riding and "floating" available down the River Verdon itself. But it must have been off-season for the locals, because there was only one other person in sight. Feeling braver for the privacy, we stripped down to our swimmers and made a dash for it.
The last time I checked we were in the the south of France, not the Arctic — but the glacier-fed Verdon River feeds into the lake, which explained the ice-y temperatures that greeted my toes as I tested the waters. Despite my shivering, I plunged right in after my husband, skin alive with goosebumps in a pleasant, tingly-clean way. I lasted about 15 minutes before what feels like hypothermia sets in, so I let my husband paddle around whilst I dried off in the late summer sun. (I have to use this moment to insist how handy microfibre travel towels are – whether you need to wipe down the rain-drenched seat of your bike in Paris, or dry off after a dip in waterfall during a hike in Thailand, or lake in Provence, it really is one of my must-haves.)
These handy links will help you find out more about sports and water activities on the Lake Sainte-Croix and the River Verdon.
Finally, we make it back to Grasse – the birthplace of luxury perfume – with just an hour to spare before the International Perfume Museum closes. Although there are smaller factories that can show you the perfume-making process (for example, the Fragonard Perfume Factory near Nice), the International Perfume Museum is the only one where you'll find an in-depth history of perfume right up to modern times. As its so succinctly summarised on the website:
…the museum takes an anthropological approach to the history of fragrances in all its aspects – raw materials, manufacturing, industry, innovation, trading, design, uses and through a variety of forms. The museum is organised into five sections according to Western historical chronology – Antiquity, Middle Ages, Modern and Contemporary periods, each representing a historical period and contemporary issues: elegance and classicism, magic and dynamism, frivolity and hygiene.

In all civilisations, perfumes have triggered an incredible production of precious and refined objects in rare materials: alabaster, glazed earthenware, ceramics, glass, metalwork. Through exceptional collections of objects and the staging of different industrial processes, the museum retraces the history of perfumes as well as soaps, make-up and cosmetics back for four thousand years.

Welcome to the world of perfume…
Our intention had been to stop on the way to Riez, but it was closed by the time we got there. This time we were determined not to miss out. We run through it at lightning pace, stopping only briefly to smell the individual and unique scents of "air", "tabac", "whiskey", "marijuana", "cocaine", and "opium", and read the story of my signature wedding scent, "Chanel No. 5″. Giant bronze vats that once would have contained fragrant stews of rose petals and lavender sit in the middle of one of the rooms. Screens that held perfume-imbued wax – just as Patrick Suskind describes in his book (and now, movie) "Perfume" – in another. We could have spent a whole day here, but one hour was better than none at all.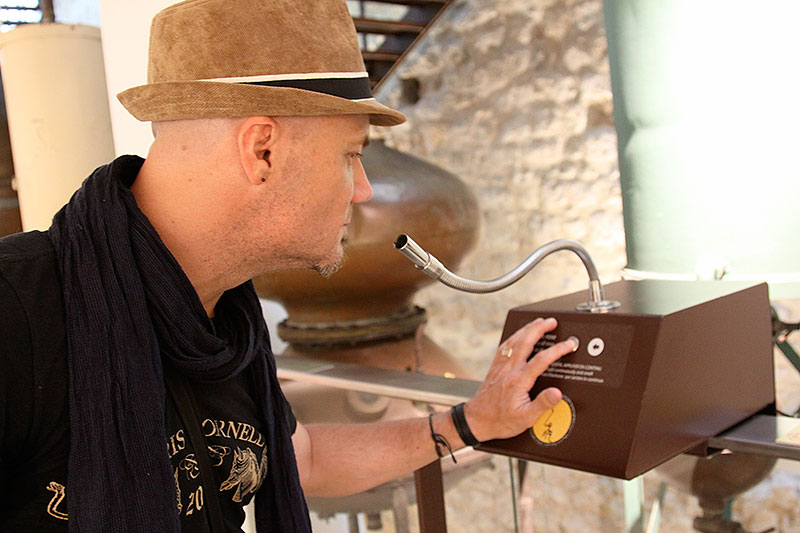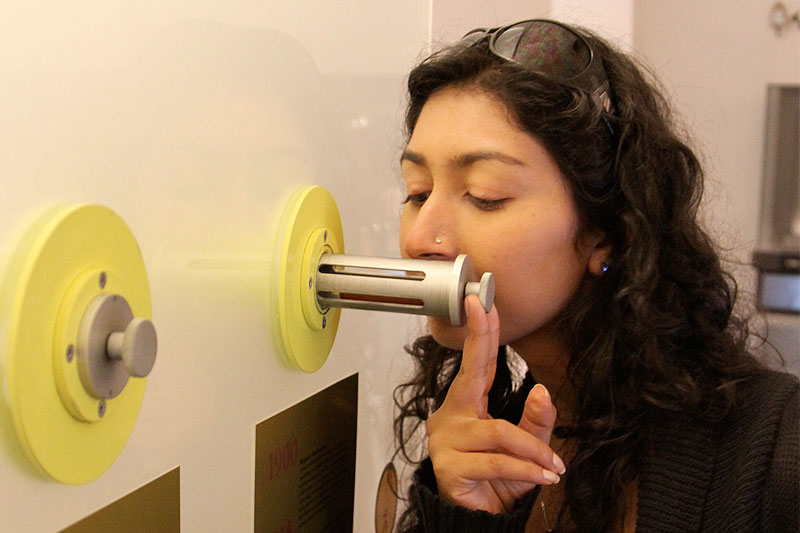 Afterwards, we wandered the dusk-spilled streets of the small town, sunlight strewn across the streets like a curtain, slowly being pulled away to reveal the dark of night. Boutique perfumeries lined the cobbelstone alleys, making full use of the souvenir-hungry tourists. A marching band paid tribute to fallen soldiers at a small memorial. We watched as a group of girls giggle at a young boy trying to catch their attention. As the sun dipped below the skyline, we reminded ourselves of the long drive to St Tropez, and lingered only a minute more before heading back out on the road.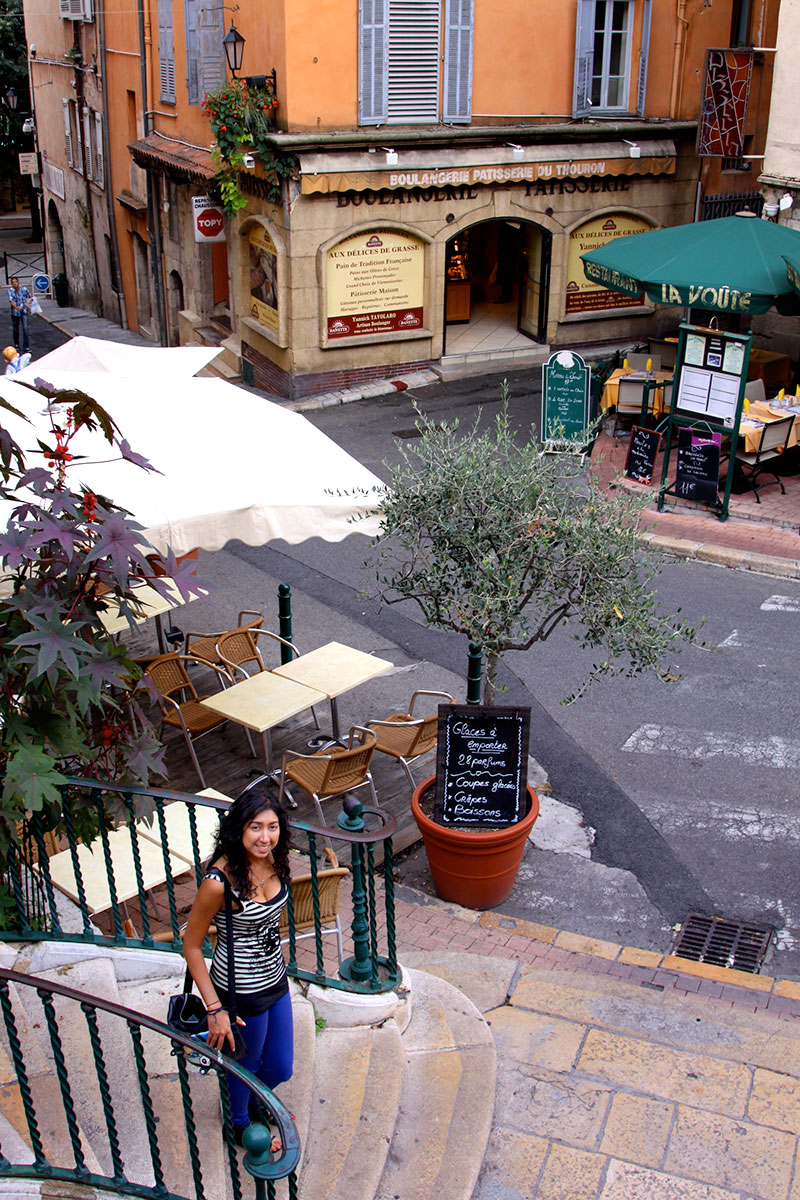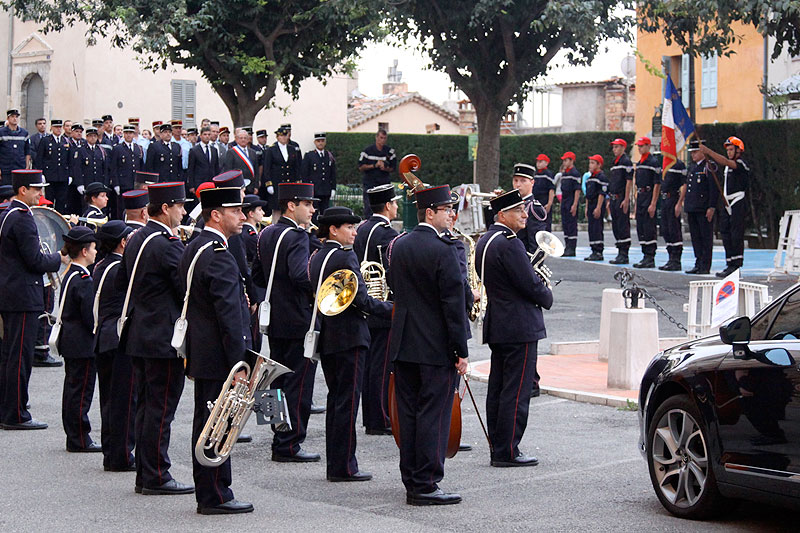 The International Perfume Museum Grasse is open from 10am – 7pm in summer, and costs just €4 for adult entry. For opening hours around the year, and other pricing options, visit the International Perfume Museum's website.
Looking to explore the same region of Provence? Use the map below to plan your own trip, add a comment below if you've any questions, or contact me for more information and a custom itinerary.
---

Enjoyed this post? Read more from this series: "
A Honeymooner's Guide to six weeks in Europe
" now!