It's April in Sydney, and Autumn is upon us. The trees outside my window bend and bow in the terror of the great north wind, as he bellows and shakes them to and fro. There are heavy clouds as far as the eye can see, their pregnant bellies bursting with a haze of downpour, shrouding the world outside with a vaporous fog. Shadows grow across the land. Dusk falls quicker these days.
My mind wanders to an identical scene, on the other side of the world, exactly a year ago today. It was springtime in Paris, and everything was wet. We were treated to highs of 12 degrees by day, and close to freezing by night. My toes were wrinkled and damp inside my three layers of sock and boots. My nose wept constantly, even when wrapped night-rider style under a scarf. My jeans were sticky and cold against my bum and legs from sitting on the rain-drenched seat of our scooter. It was wet, wet, wet… a typical Parisian Spring.
"What do you do when you're caught in the middle of a springtime downpour", you ask? These are my top tips to surviving Paris in the Rain.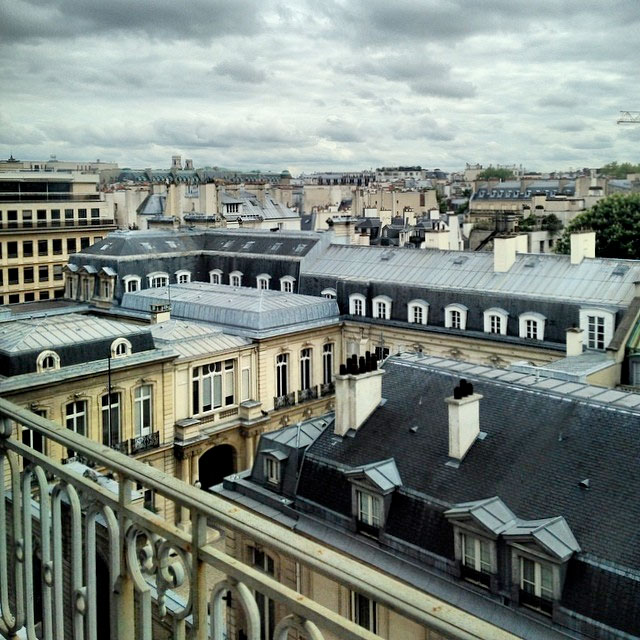 1. Pack appropriate clothing
It sounds obvious, right? But little did we know that packing the same way as have for all our travels – trusting "layers" to accommodate any sort of weather and occasion – would fail us so disastrously. Leaving our cosy, fourth-floor Marais apartment, I was wrapped like an onion in layers so tight that rolling me down the stairs would have been easier than my awkward waddle. Once outside, we discovered the hard way that "layering" clothes does nothing to keep one sufficiently warm in a Parisian Spring. Even with every item I had brought with me piled on, I shivered in the doorway as the north wind sliced through me, butchering layer after layer until it reached through my skin to claw at my bones. Next time, I'll be leaving my layers at home and use the space in my suitcase for a windbreaker and winter coat instead – I suggest you do, too!
2. Camp out at a cafe and watch the world go by
I may not have been able to feel my fingers, but there are few greater joys in the world than breakfasting on a steaming café crème and Berthillon salted caramel ice cream on the Isle Saint Louis. The steam rose from our cups, white against the deluge of rain threatening to close in on our outdoor table. An older lady sat under the awning to our right, enjoying her own brunch. Her hair, whilst bundled up with pins, broke loose in wisps and danced in the feverish weather. By her side sat a trolley carrying her most precious companion: a puppy who had, as it turns out, traveled the world with her. She spoke french fluently to the waiter, but when we turned to smile and comment at her friend, she broke into a North American drawl and told us the story of her travels.
On another occasion, we attempted to visit the Catacombs, thinking it would be refuge from the rain. Unfortunately the rest of our fellow travelers had the same idea. We were greeted by quite a sight – a caterpillar of umbrellas wound its way from the entrance of the underground tomb around the corner and out of view, the canopy doing nothing to protect the dozens of pairs of feet from the downpour. We decided instead to take shelter and wait it out at Cafe Le Denfert, warming our hands and bellies with chocolat au chaud.
After a day of exploring Montmartre, we relieved our tired feet at Chez Plumeau, a cosy restaurant tucked away behind the rear of the market square, and enjoyed a glass of van rouge in the twilight hours. Tendrils of lavender floated above us and hung over the sides of the terrace roof, woven between threads of twinkling fairy lights. The rain yet again cascaded in a gentle pitter-patter just meters from our outdoor table, and we snuggled in to keep warm as its mist splashed back towards us, as if trying to join our embrace.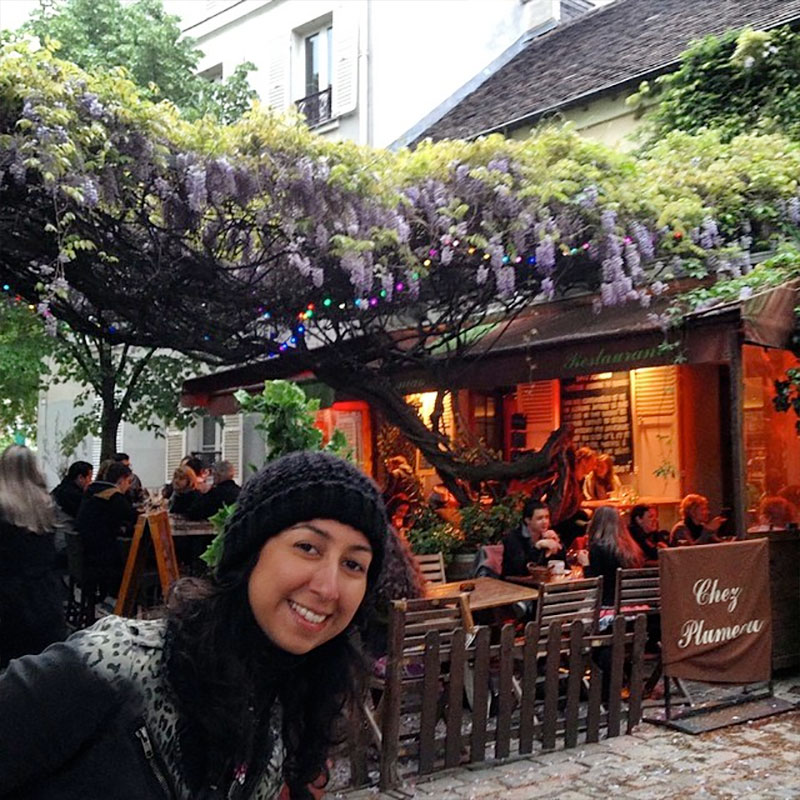 Or, if you're the literary kind, as I am, perhaps you'd like to visit the historic Le Polidor, where Hemingway would dine with his contemporaries.
3. Take a day trip to dryer pastures
The rain was relentless all week, so on our very last day, we decided to leave Paris and explore further afield. We braved the highway to Versailles on the back of a Vespa – can you imagine the two of us putt-putting down the A86, me with my head buried behind my husband's shoulder and my hands in his jacket pockets as the rain bucked down around us, over us, right through us? What a reprieve it was to finally arrive, strip our soaking outer layers off, and dry our goose-pimpled skin in the emerging sun – a reward from Versailles herself!
Click here to read my previous post, Nine Top Tips for Visiting Marie Antoinette's Versailles
4. Visit the museums
You'll be spoiled for choice when it comes to museums. We've never been able to spend less than a full day at any given museum, so it's always a hard decision for us, choosing just one to visit each time we visit Paris. I doubt we'll ever be able to see them all, given we live 17,000km away and there are around 130 museums in total, but we'll keep chipping away at them one by one.
On this particular trip we spent the day at Musee d'Orsay. Standing in line waiting for admittance under a grey sky we shivered in our thin jackets. From across the courtyard I smelled the wafting fragrance of a creperie, and leaving my husband in line, I darted over to purchase a nutella crepe to warm us up.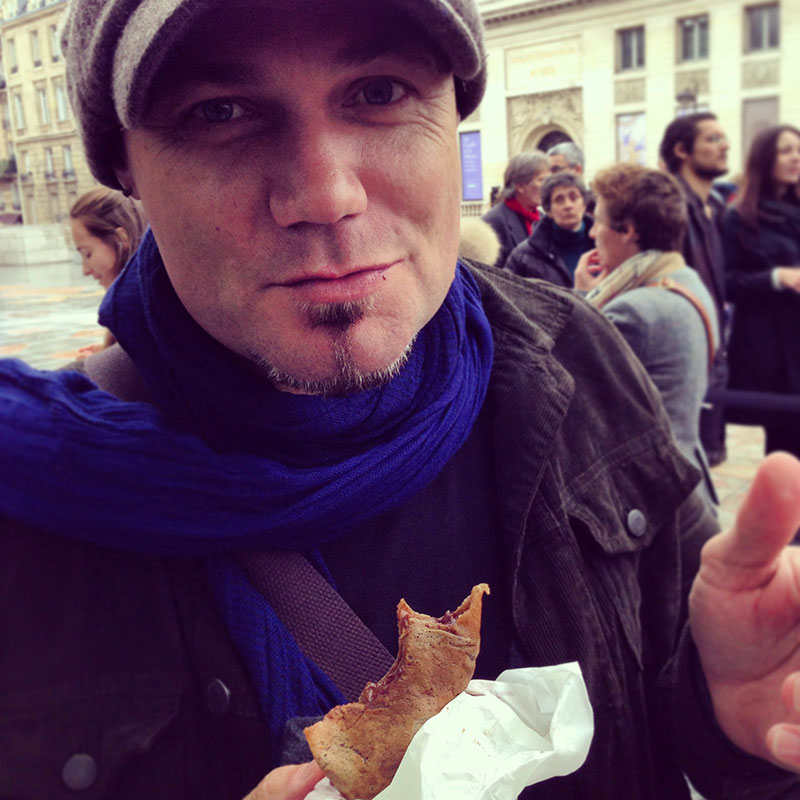 My guide to the Musee d'Orsay is coming soon. In the meantime, click here to read my previous post, Top Tips for Visiting the Louvre.
5. Shopping
Now I know you're thinking. But I don't mean "visit Chanel and Dior on the Champs-Elysees, or spend a day shopping the sales at Galeries Lafayette".
Instead, browse the stationary boutiques of the Marais: marvel at the fine art of the calligraphers, at the delicate paper so tempting to buy (but you know you'd never use it unless you have a grandmother who loves to receive letters in the mail), notebooks too pretty to soil with everyday ramblings, cards so beautiful you could take them all home with you and have enough to last a lifetime of birthdays, and related paraphernalia galore.
Or, wander the hidden shopping arcades of yesteryear, narrow passages that are lined with treasures of every kind.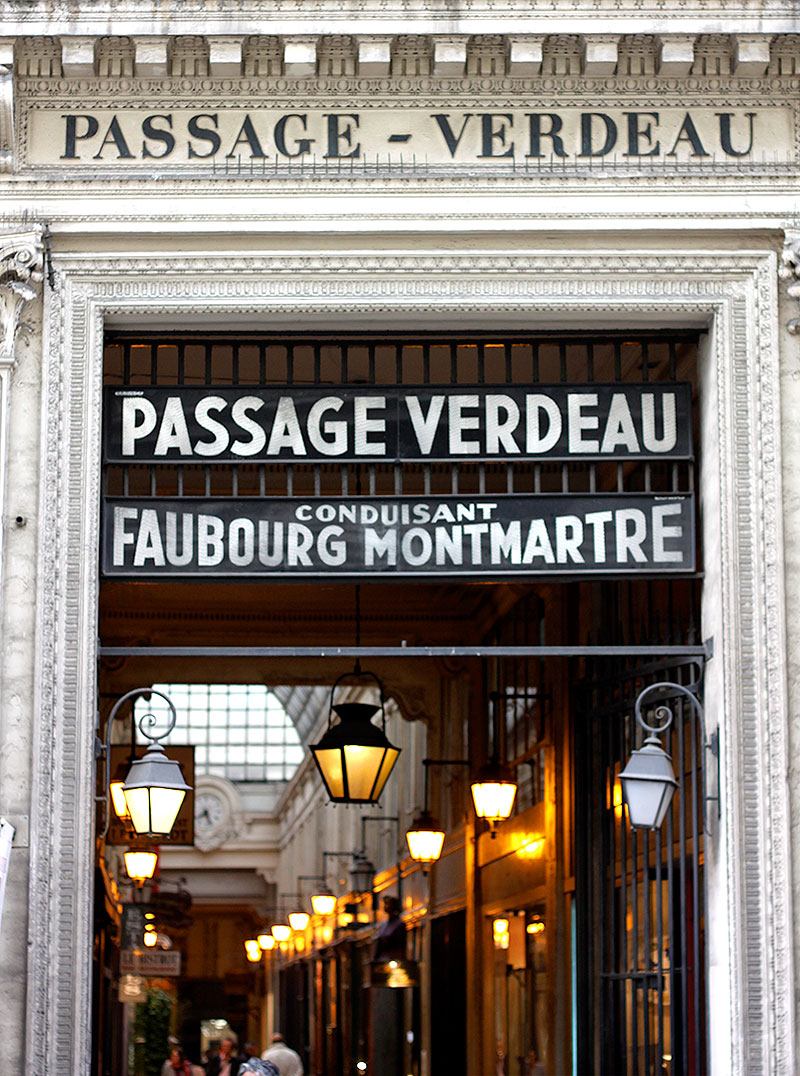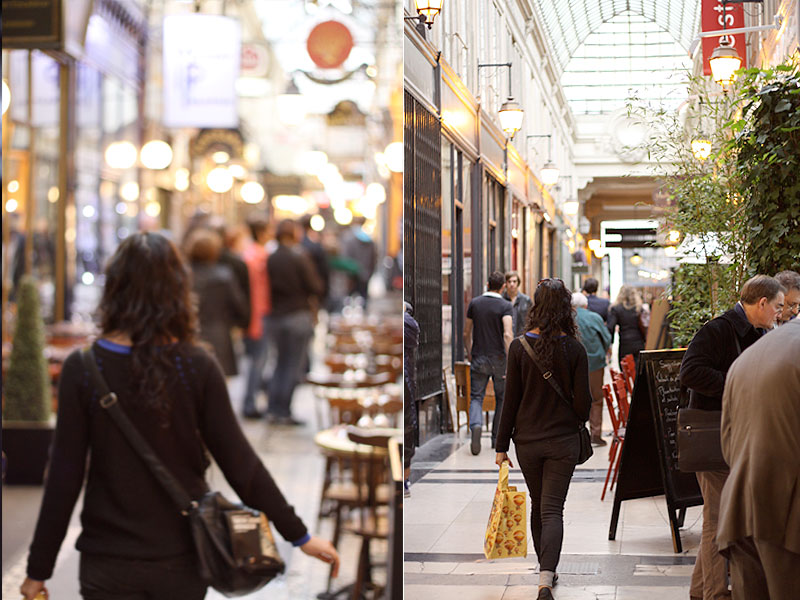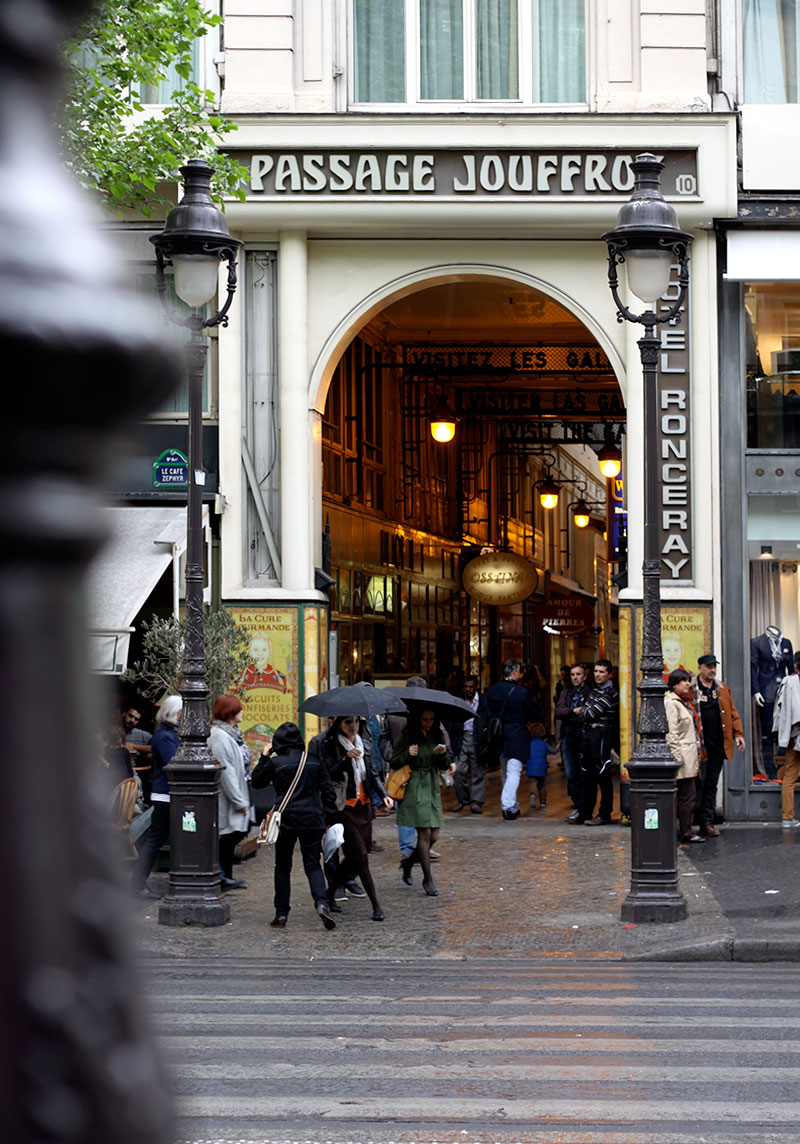 Oh, who am I kidding. The rain doesn't stop Paris, and it won't stop you – as it didn't us. It might not be picnic weather in the jardin des tuileries, but there is plenty to enjoy if you're not afraid of braving the weather. Read more of my Paris guides here.