Hungerford Hill winery has been a favourite of mine for some time now. With a brilliant selection of hearty reds (my beverage of choice), whites that will tickle even my tastebuds, and moreish fortifieds which don't last long in our house, they are the one place I ensure my friends and family visit when they venture into wine country. Not to mention, the two-chefs-hatted adjoining Muse Dining, by multi-award-winning Chef Troy Rhoades-Brown. When combined, these culinary powers create a true-to-its-name "Epic Tasting Experience"; a mini degustation with matching wines at a bargain price.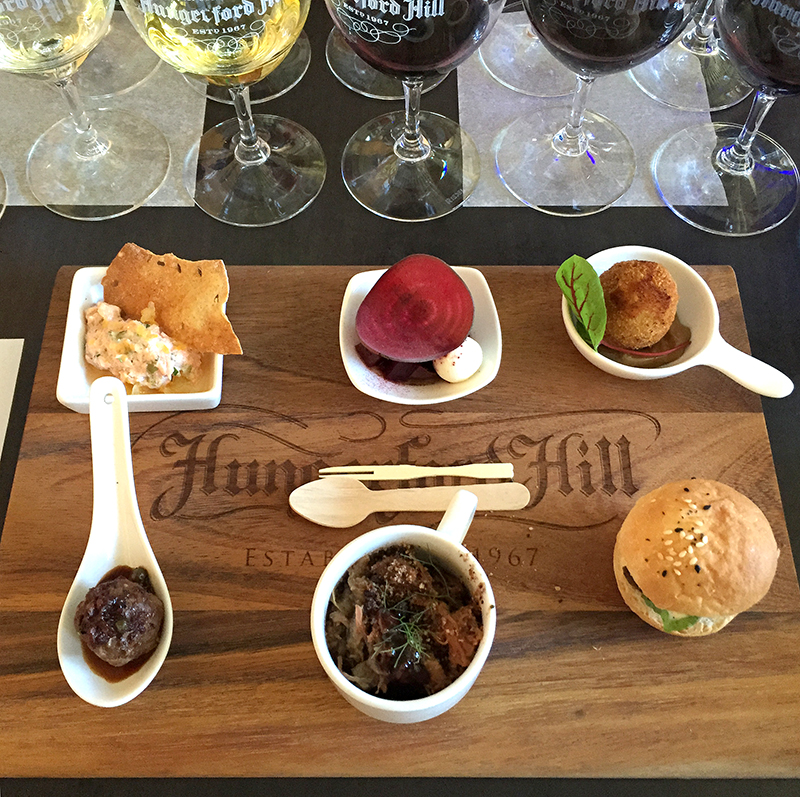 Short on time? Skip down to the review →
My husband and I were married in the Hunter Valley, so we return each year to relive the occasion. It was on the first of these anniversary trips that we stumbled upon Hungerford Hill. After an intoxicating wine tasting at the cellar door, we signed up to the quarterly wine club delivery of exclusive wines, and haven't looked back once.
Just recently, we sampled their new 2013 "Epic" Barossa Shiraz; made for the true red-lover, the sort of wine that evaporates on the palate as soon as you've taken a sip. One of the friendly staff informed us of the new "Epic Tasting Experience"; 8x wines (including the "Epic") matched with a 6-course mini degustation (this is the advertised offer, however we were given much, much more!). It was impossible to resist – we returned within the month!
Our wedding reception was held at the esteemed Bistro Molines, by Robert Molines, who has not only earned several chefs hats during his time 40-odd years running the regions best restaurants (including the famous "Roberts" at Peppertree), but has also spawned a family of apprentices who have now gone on to successfully run their own, hatted restaurants. Namely, Troy Rhoades-Brown at Muse Dining. When we realised what the connection was, we knew straight-a-way that we were right where we belonged; at home with our favourite wines, our favourite food, and our favourite people.
On arrival at the cellar door, one of the staff members, "Phil", seated us (myself, my husband, and my in-laws) in the lounge with a complimentary glass of sparkling wine while he prepared our table. Given the amount of glasses he had laid out – spanning the table across its width from right to left – we had assumed there would be several other groups enjoying the tasting today. We were wrong. This is what 24 glasses laid out on a table for 4 people looks like:
THE MENU
Classic Hunter Valley Semillon 2013 &
Museum Classic Hunter Valley Semillon 2005
Matched with: Ocean trout rillettes with local citrus and fennel
We started off with a bang. The first course was just phenomenal, and matched to two wines. The trout was the perfect appetiser, awakening your taste buds with an explosion of summery citrus notes. The 2013 Semillon was the lighter of the two, with crisp, citrus notes; a good accompaniment for the introductory trout course, perfect for a weekend jaunt on the harbour, or paired with fresh prawns from the fish markets. But, as a lover of reds and heavier wines, I much preferred the rare 2005 Semillon with it's stronger, more robust flavours. (There is nothing subtle about my taste in wines!)
Classic Tumbarumba Chardonnay 2013
Matched with: Roasted beetroot, organic wasabi and goats cheese, topped with toasted hazelnuts
I'm not usually a fan of goats cheese, but this wasn't overpowering, probably due to it being creamed with the wasabi. The wasabi wasn't overpowering either – it was as if Troy had found a harmonious balance between the pungent goats cheese and the sting of wasabi. It was smooth and silky, a delicate morsel that proved the perfect garnish and a point of interest to accompany a stock-standard beetroot. The wine really caught my attention here – another robust white with the 2013 Chardonnay, nothing like the sour quaffing wines I remember smelling on the adults when I was a child. The full-flavoured wine hits your palette with the gentle tenacity of a merlot. It is almost nutty and I wanted nothing more than to sink my teeth into it.
Collection Tumbarumba Chardonnay 2010
Matched with: Pork and raisin croquette with black garlic aioli
I've only recently started eating pork, and only in very small amounts, but this dish made it clear what the hype is all about. The croquette was sweet and delicately spiced – the dark aioli and light crumb adding just enough texture to the meat to make it interesting without over-complicating it. And, it must have been something to do with the searing weather outside, but the 2010 Chardonnay was another winner for me – another strong white with a smooth, nutty flavour. We received a few bottles of these in one of our Wine Club packs which we'll be saving for a special occasion this summer – and no doubt we'll be ordering more! I think Hungerford Hill has just turned me into a white-drinker.
Classic Hunter Valley Shiraz 2011 &
Collection Hunter Valley Shiraz 2010
Matched with: Braised lamb on a bed of quinoa, topped with sweet red wine jam and star anise crumb
We had taken our time so far – I'm sure other diners finish the whole tasting in under an hour, but here we were, over an hour into the experience, only just savouring the first of our reds. It was straight into the heavy reds too, no rose or pinot noir to start us off. They were rich with cherry and dark fruit, dry on the tongue and a jarring contrast to the summery, floral whites. In retrospect it may have been a fatal flaw, because, whilst I admit they were nice, they just felt too harsh after the chardonnays. A palette cleanser in-between would have been welcome. My husband, on the other hand, was enjoying every last drop with the succulent lamb course.
There was also a small mixup with the dishes – they weren't laid on the platter in the right order, so we had already started with the beef before realising we were one step ahead. If we'd progressed from the pork to the lamb, and then the beef, I think it would have been a better lead in to the heavier wine and food. Still, you can't fault those delicious morsels – everything presented to us was incredible, regardless of a few hiccups.
Classic Hilltops Cabernet Sauvignon 2013
Matched with: Wagyu beef meatball with an olive and caper jus
Despite being cold due to our hours of chatting over the wine, the meatball was still tasty and the jus was just enough to moisten it without overpowering. I can imagine how amazing the meatball would have been if we had eaten it whilst hot! My palette, by this stage, was warmed up, and loving the heat from the big flavours of the Cabernet Sauvignon – the flavours that had drawn me to red wine 13 years earlier. The medley of earthy, oaky, blackcurrant notes that sends my head reeling and my hand reaching for a refill – if only there had been one!
"Epic" Barossa Shiraz 2013
Matched with: Mandagery Creek venison slider with shallot balsamic jam, juniper aioli, and watercress
Speaking of big, the "Epic" is indeed larger than life, igniting fire in my belly and leaving my taste buds tingling. My mind slipped away for a moment and I imagined enjoying my mother's spicy lamb curry, or a thai-style crying tiger, with a tipple of this wine – fire on fire, perfect. The only other big red we've loved this much was a Penfold's Bin 389 "Baby Grange", the sort of wine that evaporates on your tongue.
At $96 a bottle for wine club members ($120 for non members), it's not a cheap drop, but definitely one to invest in and lie down for a few years (or 20 years, as the tasting notes suggest). In terms of the venison, I managed to eat only half, so stuffed I was after a belly full of exquisite food and wine, but that shallot balsamic jam pulled the dish together for me. Simple but satisfying fare.
And for dessert?
To finish us off, Phil offered us a sample of the fortifieds with dessert.
We each received a glass of the Botrytis Semillon, Liqueur Shiraz (my personal favourite – I like to sip it as I tap away at my keyboard late at night), and Liqueur Muscat, along with a shared platter of muscatels, chocolate-coated raisins, chocolate-drizzled biscotti, and caramel popcorn.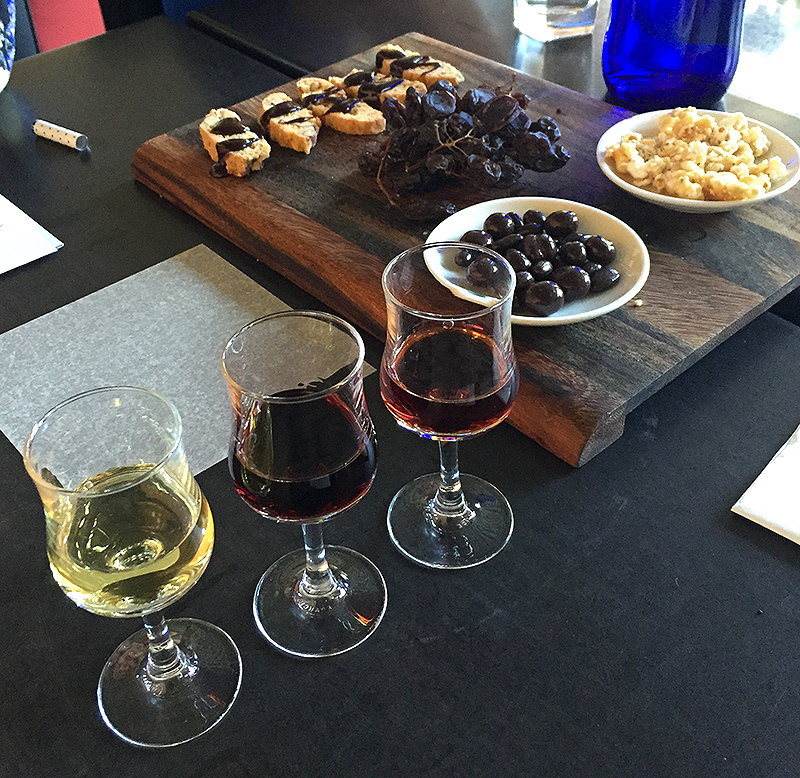 I bet you're dying to find out what this cost?
As advertised, the 8x wines and 6-course mini degustation costs a mere $50 each for wine club members (and their guests) – or $60 for non-members. I'm not sure if the sparkling wine, fortifieds, and dessert platter is standard fare for wine club members, or if Phil took a liking to us, but we were grateful for it either way!
You're also able to book a smaller set of wines and food – check the Hungerford Hill website for more options.
The verdict?
For small eaters like my husband and I, this was enough lunch to keep us going until dinner. Value like this is hard to come by today!
| | |
| --- | --- |
| Ambience: | 9/10 |
| Food: | 9/10 |
| Service: | 9.5/10 |
| Value: | 10/10 |
Want to know more about Muse Dining?
We were also lucky enough to have dined at the two-hatted Muse Dining restaurant, but I'll write more about that in my next post. Come back soon to read all about it!